With more professions worldwide having a digital presence, one Citrus High School club is making sure the underrepresented can be the next innovators in computer technology.
Girls Who Code entered its second school year as a club in 2022 at the Inverness campus, and has been striving to introduce more young women and teenagers who identify as female to the field of computer sciences.
"We wanted to really break through and provide this opportunity to individuals so we can close the gender gaps," said Heidi Gutierrez, the club's facilitator, "and other gaps in this industry."
While the local Girls Who Code Club is tied to Citrus High's Academy of Computer Science program, students don't have to be enrolled with the academy to be a club member.
"Stop by my classroom, and we can talk about it," Gutierrez said about how students starting in their freshman year can join the club, which meets from 3 to 4 pm on Tuesdays.
Gutierrez, who's also a teacher in the computer academy, contacted the Girls Who Code national organization to start Citrus High's chapter last school year, continuing the academy's mission to expand access to computer sciences beyond the general population of high schoolers.
According to Girls Who Code, 37% of computer scientists in 1995 were women, but that number decreased to 24% in 2022, with the biggest decline occurring for girls between 13 and 17 years old.
Gutierrez said there were a handful of girls in the computer academy when it began roughly 4 years ago, but that number has grown to almost 60 since then because of the academy's inclusion.
"It's absolutely been an honor to be part of it, and to be able to be part of that change in the computer-science industry," she said, "because I truly believe that we are preparing individuals for a professional career in computer science ."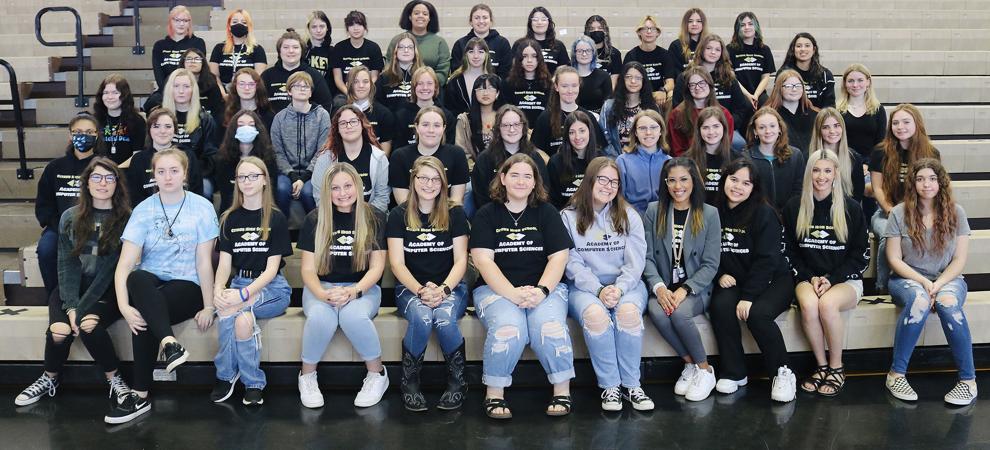 There are seven official Girls Who Code members at Citrus High, with other students stopping by at meetings when they can.
"I just let them come whenever they can," Gutierrez said, "because the resource is there."
Gutierrez said she's "always been a fan of computers." Her background in public relations, with building websites and digitizing branding, preceded her trainings to become an educator.
"I wouldn't really see myself doing anything else other than teaching computer sciences," she said, "and it's become such a passion for me that I've become an advocate for computer science for not just females, but for minorities and everyone else who wants to join."
Along with offering similar programming lessons provided by Citrus High's computer academy, the Girls Who Code curriculum also teaches other coding formats and programing languages ​​the academy doesn't have classroom time for.
"The computer-science industry is ever-changing so every year, there are new curricula, there are new resources on offer to students," Gutierrez said. "We're innovating so we provide our students with the latest and greatest education that we can offer with computer science."
For more information about Girls Who Code, visit girlswhocode.com. To learn more about Citrus High's Academy of Computer Science, visit tinyurl.com/yc86h4t8.
"Our classroom is very much a vocational classroom," Gutierrez said about students in the academy and club getting industry certified. "We treat it like a workplace so they're definitely ready for the workforce."
Girls Who Code also gives its members access to exclusive resources for scholarships, grants, additional trainings, internships and careers for as long as they retain their free membership.
After getting permission from parents, Gutierrez registers her Girls Who Code students with the organization to receive its benefits.
"So while they're here, they're getting prepared for the industry," she said, "and when they leave, they still have access to all those tools to become even more resourceful in their job."
Sophomore Gwyneth Wheeler, who joined Girls Who Code when it started last year, said the best part about the club is how it strengthens bonds between classmates who become part of a tight-knit community.
"I would just love for lots more girls to join so we can all be together and, that way, we can have more friends here," the 16-year-old said. "Do it, there's no reason not to; you're going to get a better understanding for code."
Having this camaraderie is key in computer sciences, which requires skilled teamwork to turn trailblazing concepts into a reality.
"You're constantly collaborating with other people on creating projects," Gwyneth said, "and you have to be able to see eye to eye, and use each other to build off of each other to make your project stronger."
Gwyneth said one project she helped create was "Fabio," a video game with a "Mario" resemblance.
Using binary code, Gwyneth and her fellow game developers were able to assign computer keys to have their protagonist perform specific and complex moves on the screen.
"After seeing how fun it is to make video games, it makes you want to have a hobby on the side to make a fun game," Gwyneth said. "Whenever you're playing the game, you really don't think about what goes into it, so you get a better appreciation for video game developers."
Gwyneth, who commutes to Citrus High from Crystal River, said she doesn't regret joining school's computer academy and Girls Who Code club because their lessons will give her a big head start in college.
"Whenever I get older, I definitely want to get into computer sciences because the world is moving that way," she said. "Twelve hours of my life are dedicated to this, and it's worth it because I know I'm going to go really far in life because of the education that I get here."
.