Hugh Chambers, who is known as The Growr is a technology enthusiast and businessman whose primary focus is building wealth. The Growr is focused on areas such as; Trading, Web Development, Investments, Content creating and helping others to build their Personal and Business Credit.
March 4, 2022 – The phenomenal businessman Hugh Chambers, also known as The Growr is a computer programming and web development expert from the islands of Jamaica. The Growr is a seasoned stock market and forex trader, and the founder of multiple successful businesses, who uses his wealth of experience to guide young entrepreneurs on the path to business success. Hugh has founded and grown multiple businesses to record levels of success.
During an interview, The Growr (Hugh Chambers) was asked to use one word to describe himself. His response was "I think the word that best describes me, and my philosophy of life is a 'go-getter.' I am an avid risk-taker who doesn't shy away from any opportunity to innovate or improve my current position. I believe life is 10% what happens to you and 90% how you choose to react to it. We are given two things each day, a change and a choice, it's on you to make the right choice when you get your chance. Throughout my life I had made my fair share of mistakes, but I learned from them." The fledgling entrepreneur, trader, and content creator attended Knox College (High School in Jamaica), where in addition to his required academic workload, he leveraged the informative resources of YouTube, Google and several other websites to teach himself computer programming and web development. After leaving high school Hugh went on to further his education and widen his network at the University of Technology Jamaica. As a result, Hugh gained a wide knowledge in several other areas and implemented that in his life and entrepreneurial journey.
In 2014, The Hugh also founded Mozzby LLC, a web development, graphic design & printing firm which he operated with full services until 2016 when he dismantled the printing department and transformed other operations into an online service business which he then merged with The Growr LLC to centralize services that he offers.
Along with The Growr LLC, Hugh unveiled his new ambitious venture 'Ai Smart Drive'. Hugh is partnering with co-founder Sandre Ennis otherwise known as Dre Ennis, a Jamaican-born accomplished entrepreneur. Ai Smart Drive was initially inspired by their shared experiences offering as business partners car rental services through popular apps such a into the car. Ai Smart Drive LLC is the name of the Florida-based company that Hugh vows to be a game changer in car rental by the next three years. At the core of its business model is the application of advanced technology that will enable rental cars to provide self-delivery. The company also plans to launch an app which will be available on all app stores. A rental client will be able to choose their favorite vehicle from an extensive fleet of options, choose the date, time and location they require the vehicle, while the car, SUV or truck is promised to be delivered right to their doorstep.
In an interview with Yahoo Finance, Hugh expounded on the unique services that Ai Smart Drive intended to offer. "We plan to elevate the rental experience for people and with elevation comes innovation and alleviation. We want to innovate the operations within the car rental industry while alleviating a lot of the burdens associated with car renting. The vehicle will be delivered to the client's doorstep as desired seamlessly without delay. All our vehicles will be engineered with advanced technology that allows them to be self-driven to the designated locations without any humans operating them with several safety features. Furthermore, there will be no need for our clients to drop off the vehicle, as the technology applied in the vehicles will execute this task on behalf of the client." Hugh told Yahoo Finance.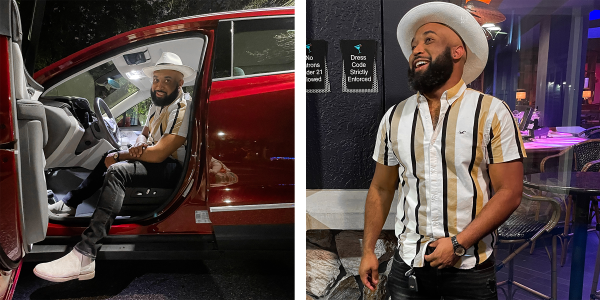 From a young age, Hugh tried to get ahead in the entrepreneurial world. He was working hard and hustling by creating his own businesses. Hugh recalls that his desire to make a name for himself drove him to pursue other promising business ventures. The technology enthusiast and businessman who has been featured in mainstream media outlets such as Fox News, NBC and CBS wants to change the structure of the car rental business.
Associated Companies: The Growr LLC, Ai Smart Drive LLC, Fixitnoww LLC, Swift Fix Electronics LLC
Social Media Pages:
Instagram: https://instagram.com/thegrowr
Twitter: https://twitter.com/tgrowr
Facebook: https://facebook.com/tgrowr
Media Contact
Company Name: The Grow
Contact Person: Hugh Chambers
Email: Send Email
Country: United States
Website: https://thegrowr.com/