The scene in 9-year-old Paulo Lopes-Silva's room in the hospital was chaotic.
"I feel really dizzy again," he said.
"Let's get him down," one physician said. "Just lay down for me, OK?"
Monitors continued to beep in the background as doctors worked to get Paulo in stable condition. As he began to lay down, he lost consciousness.
"Nurse Becky, can you begin CPR?" another physician asked.
"You're hurting him," Paulo's mother said. "What are you doing to him?"
There was a cross chatter in the room as a physician began charging the defibrillator and another talked with the frantic mother. Once Paulo's condition stabilized, an observer could be heard saying, "Good job, guys." Applause filled the room. The physicians took off their headsets, and the patient "disappeared."
The crisis was over — for now.
At the Embassy Suites by Hilton in Charleston, students and staff from the West Virginia School of Osteopathic Medicine simulated the case of a young boy who had passed out while playing soccer. But unlike other simulations that use mannequins, this one was in virtual reality.
A moderator sat behind a laptop to select the responses of the patient and the mother as the students worked through the simulation.
In recent years, chatter surrounding virtual reality has increased as the technology has become more widely accessible. From video games and movies to the metaverse, virtual reality has served as an escape for people looking to immerse themselves in tech. Now, the virtual reality space has come to the classrooms of the West Virginia School of Osteopathic Medicine (WVSOM) to train tomorrow's physicians.
The school has purchased 22 Oculus headsets, a three-year subscription to SimX, a virtual reality medical simulator, and they have access to 28 unique cases they can run through. The technology takes virtual learning to a whole new level.
With the SimX software, students can collaborate on a variety of scenarios in different environments — from anywhere in the world. Students are responsible for every step of the cases by performing procedures, requesting technicians and medicine and are even required to speak with the patient and their family.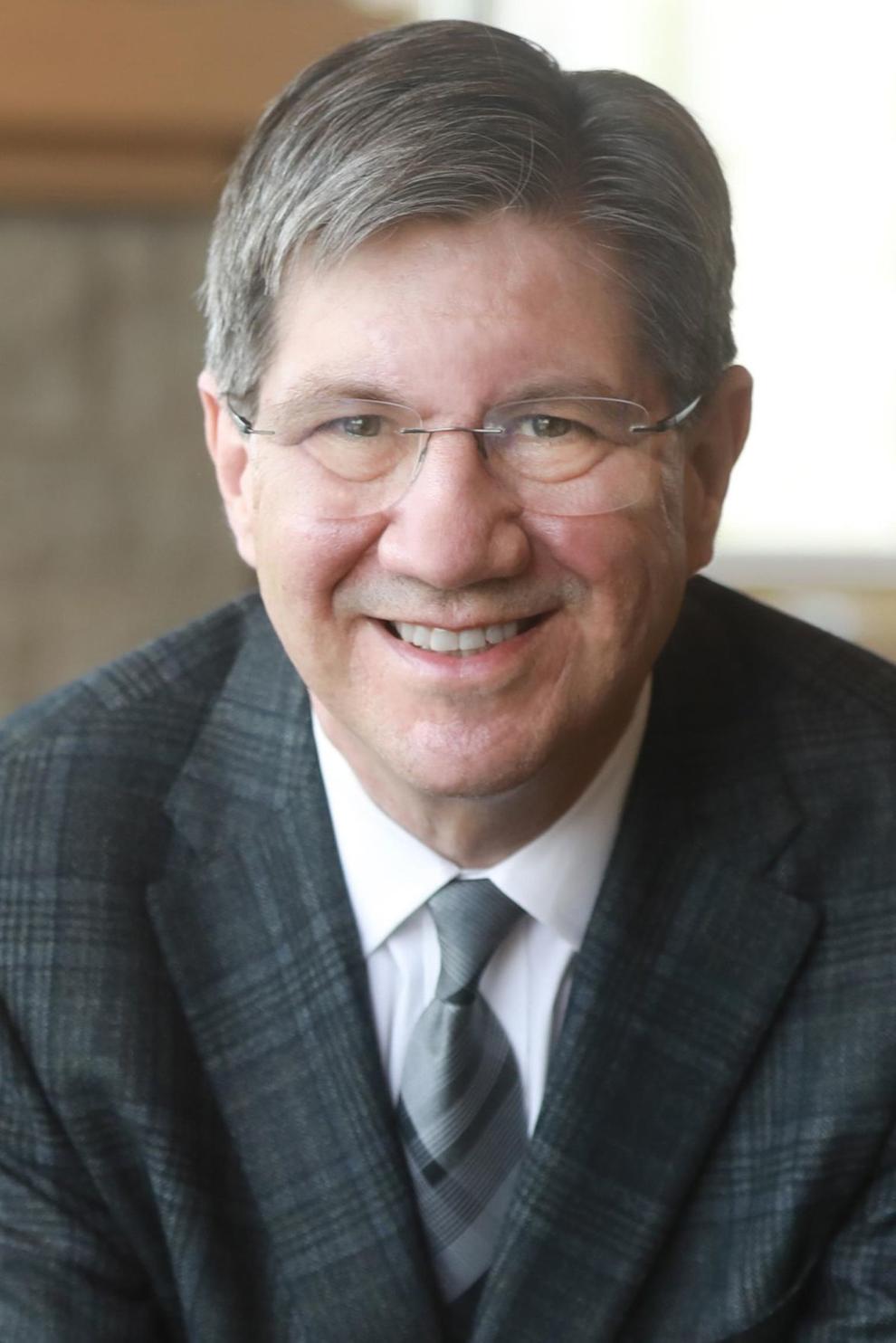 "This is just another way to educate a medical student," Dr. James Nemitz, president of WVSOM, said. "It's all about giving them what is real-life experiences so, one, that they can be exposed to that experience, but also practice that experience."
The Osteopathic School has a simulation center with 24 fully equipped exam rooms and more than 20 mannequin simulators. Some mannequins are high-tech and can simulate heartbeats and breathing, while others are meant for simple clinical trainings.
According to Jenny Patton, WVSOM's electronic health record manager, a typical adult mannequin costs about $75,000, while an Oculus headset costs just $299 and provides the flexibility of practicing from anywhere.
"There's a lot of VR simulation that we would never be able to do with the mannequin simulation," Patton said. "Mannequin simulation, I'm not downing them because I work with mannequin simulations as well. This is just a much-needed additional tool that we can use remotely."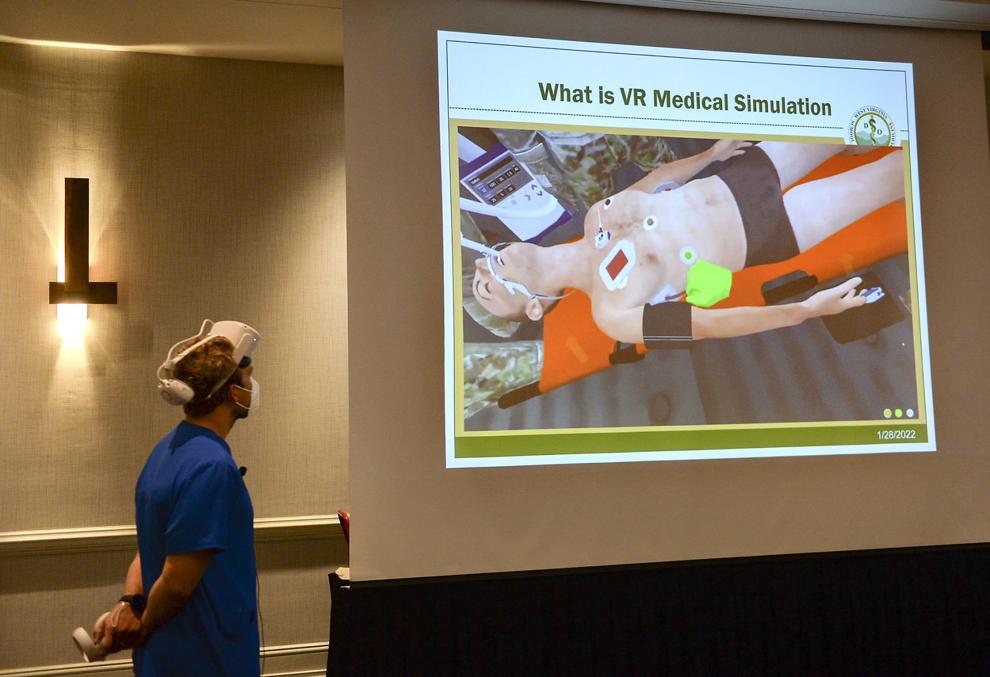 In March, the school will be doing a simulation that starts on a mannequin then transitions to VR simulation — as close as it gets to real life. But Patton said as good as they are, it's important to understand that trainings are meant to prepare students for clinical rotations — not to replace real-world experience.
"We are osteopathic, we are hands-on, and that is not going away. That is the forefront of our training," Patton said. "The whole thing with this is patient safety."
Students at WVSOM have two years of book work before they begin their rotations across the state, and they believe the simulations will help their peers get ready for rotations.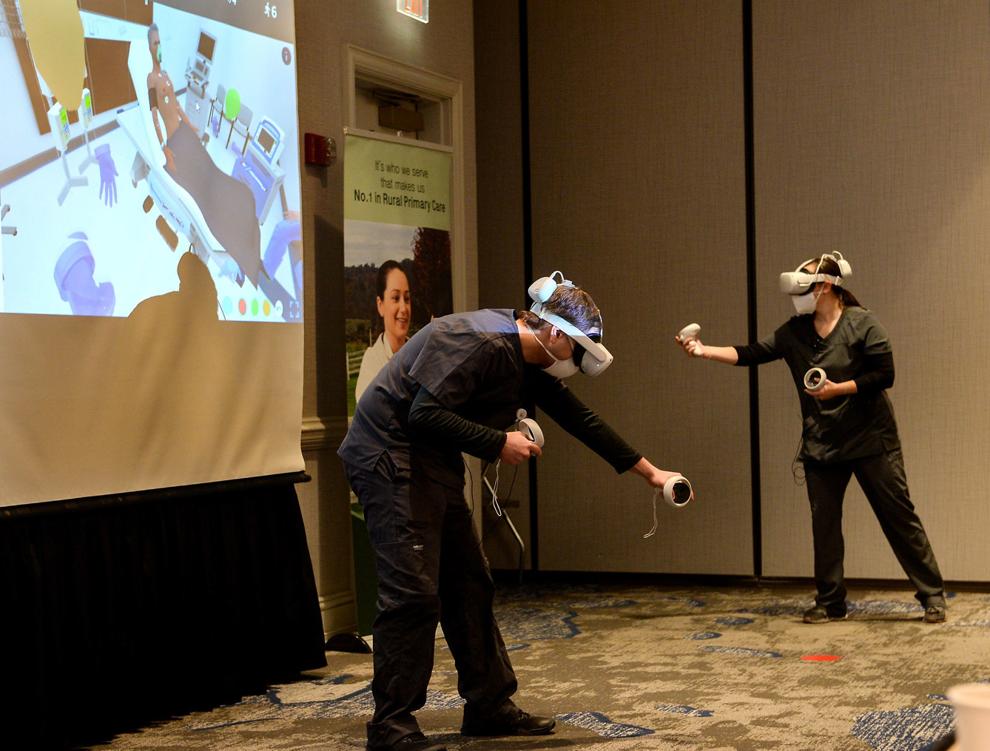 "I think the biggest thing that this can offer is the peace of mind that it's going to give a second-year (student), and even first-years," Alina Broton, a fourth-year student at WVSOM, said.
Last year, first- and second-year students did 11 mannequin simulations before starting their clinical rotations, and WVSOM's goal is to offer those students two to four VR simulation labs starting next year. In addition to their simulation trainings, students will still have hundreds of hours of book work.
"What has happened in medical education is now you still have the book learning and the labs, but now you have the simulations, which are preparatory to then seeing actual patients," Nemitz said. "And I think that's the power of it. And then the fact that you can practice things."
While students are excited about the opportunities that come with virtual reality and SimX, they are adjusting to the new technology.
"I think the most difficult part is just getting adjusted to the VR. It's not even like it's a hard thing, but it's just something different," Patrick Kane, a second-year student at WVSOM, said.
Broton echoed that sentiment, saying that the controllers were her biggest adjustment, but not knowing what buttons to push to administer a shot was not an issue when her time came for the demonstration.
"If you're doing a sim or, like, a patient encounter in person, like, I'm just grabbing that and you're, like, fake doing it. Whereas, like, here, you actually administer it for it to count," Broton said.
It's not just students working through the kinks of the implementation of VR. Faculty also say they are hamstrung by SimX's inability to allow for custom responses from some characters in the simulation.
"The biggest complaint that I have right now is the dialogue," Patton said. "Who knows what students are going to ask in the middle of an exam or in the middle of a triage where they limit the dialogue, and sometimes it makes it difficult to run the case."
Patton said she is working with SimX to address the issue, and she hopes that eventually she will be able to type the characters' responses in a text box.
Patton has been at WVSOM for 11 years. When she was first hired, she was asked to develop and incorporate electronic health records training at the school. It took two years to have the program fully integrated, but she doesn't anticipate VR taking that long.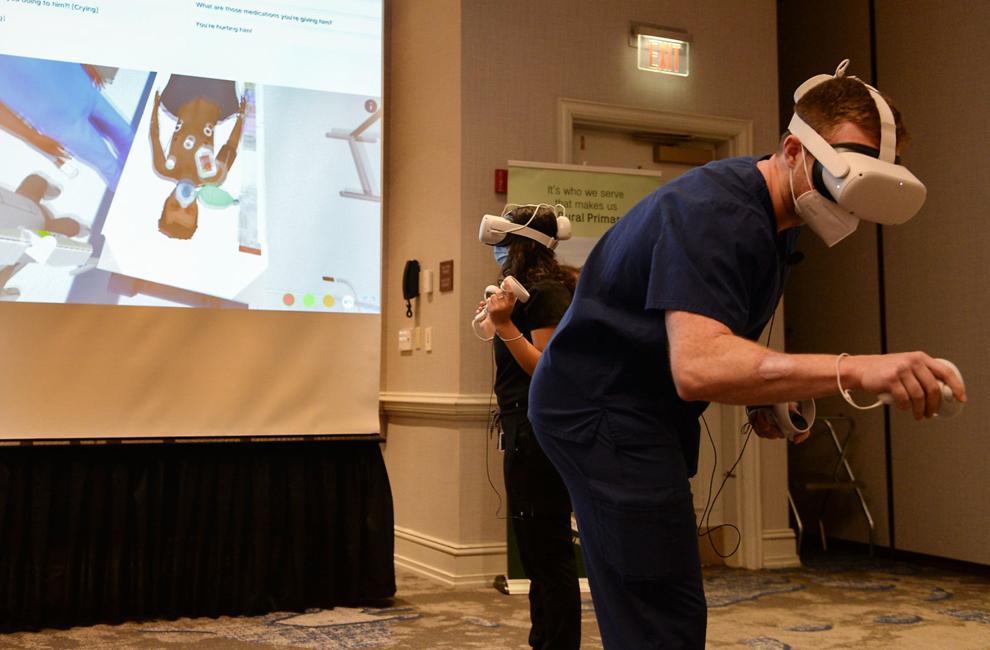 "This next curriculum year I think that we're going to be able to be fully integrated," Patton said. "Not so much required, but where faculty are going to incorporate it into their course."
Even though there are still kinks to work through, students and faculty remain excited about the opportunity to have more practice before and during clinical rotations.
"I'm not just studying out of a book. Like, I'm taking care of real people. I'm talking to real patients. I'm ordering real medications, labs," Broton said. "So I think that this will really help with that piece, like, ease of mind and confidence that these students will have moving on to clinical years."
.