Ethan Downs prayed for something that would unite his teammates.
The sophomore defensive end's invocation was answered in his first team meeting with new Oklahoma coach Brent Venables, who promptly walked into the room, placed his Bible on the podium and began reading from scripture.
Downs doesn't remember what passage Venables shared, but the message still lingers in the Weatherford native's mind amid his second spring of practices with the Sooners.
"(Venables) starts reading scripture, not to force the Bible on us, but to apply the morals of the Bible and how messages in the Bible unified people to make them stronger together, so even in our weaknesses, we are strong," Downs said. "…He brings it in and says, 'these messages in here can unify us and bring us together and can motivate us to really achieve something with each other.'"
There are a handful of other instances in the last 3-4 months where Venables or defensive ends coach Miguel Chavis has provided Downs a refreshing word. The former four-star recruit is further encouraged when players put their arms around each other and pray in practice, or when he sees a lesson from a meeting applied on or beyond the field.
After a freshman season of adjusting to the college game while tallying 14 tackles — three for loss — half a sack and a forced fumble, Downs is emerging as a leader at his position group.
He noted after practice on Monday that not much has changed in terms of on-field operation playing for Venables instead of Lincoln Riley and Alex Grinch. What has changed more palpably, he said, is the coalition in the locker room, largely thanks to the new coaches.
"I would say, the coaches last year, great coaches, phenomenal, but it was very win based, and we grew together based on the ups and downs," Downs said. "But with this team, the coaches bring in such a character culture, and they say character comes first, all the winning comes after, and that's different.
"Although both coaches are really winning coaches all across the board, these coaches really bring in the character, what you do on and off the field, how you hold up your teammates. It's all about the team, all about the family."
Since following Venables from Clemson to Norman, Chavis is quickly becoming known for his enthusiasm, his satirical recruiting tips on social media and his one-liners. Downs' favorite Chavis saying is "I'll drop you in the fish grease," which serves as admonition after a mistake.
Chavis is also quick to celebrate his players' successes, though. In one of OU's first spring practices with pads on, the Sooners were working on inside runs when Downs slipped into a gap and made a huge play on the running back.
"That's what I'm freaking talking about!" Chavis yelled as he sprinted across the field to bump shoulders with Downs.
"He is a great man and he's someone to aspire to be like, not only as a coach, like he's a friend," Downs said of Chavis. "And he's always calling us, asking if we want to go to the movies or go (watch) film or just hang out with the family. (We've) had family dinners at his house two or three times already and included us like family.
"The chemistry that he has with (defensive tackles coach Todd Bates) and all the coaches, the whole defensive staff and offensive staff have this chemistry that's welcoming to us as players that we're able to take and also apply to our teammates on the field. It's really cool."
One of the OU coaching staff's greatest pet peeves is when players don't pick up after themselves. That's where Chavis has fostered a mutual respect for Downs. The first-year coach position is confident that if anyone ripped off a piece of athletic tape and left it on the field, Downs would go pick up the trash.
"I just love everything about Ethan Downs," Chavis said during the second week of spring practice. "He's coachable, he's teachable, he's flexible and he's tough. And he loves his teammates, man. I don't think there's a guy on this team that loves this team or Oklahoma or his position more than Ethan Downs. Maybe there's somebody that loves them just as much, but not more than Ethan Downs."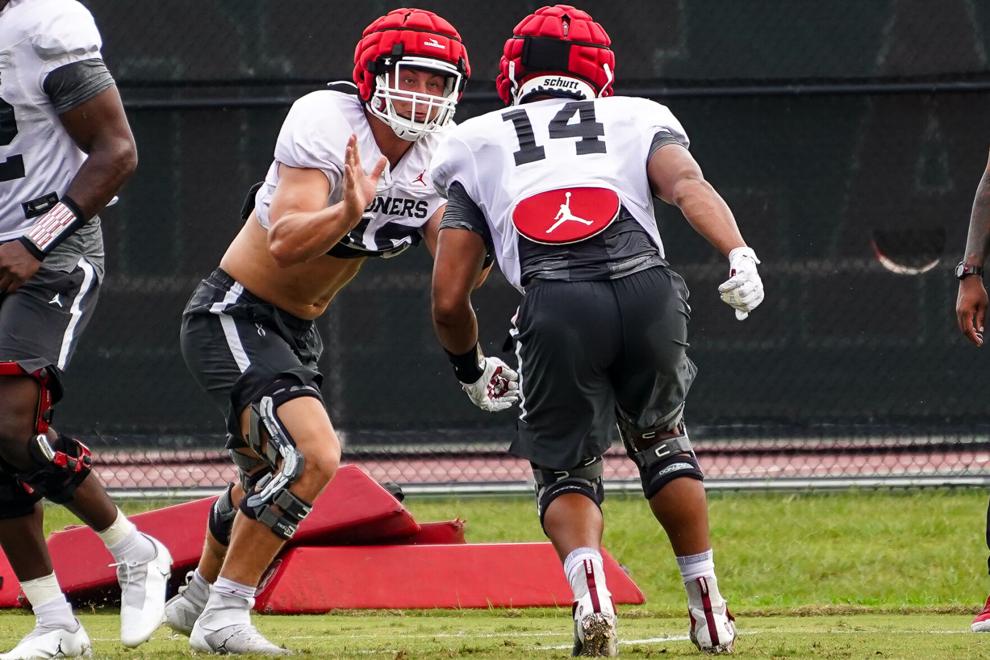 As Downs envisions continued improvement on and off the field, he's taking to heart Venables' Monday practice message that "you can't speak yourself into being a great football player." Success comes from "getting gritty," and to illustrate that point, Venables once used ice cream as an analogy during a team meeting.
It doesn't take much effort to grab a waffle cone, walk over to the soft serve machine and squeeze a little ice cream onto the top. It takes much more grit to grab a spoon, dig into the container and mine out the mint chocolate chip, Downs recounted.
Lessons like these are answers to Downs' prayers, which has him excited ahead of year two at OU.
"I'd say anybody that really wants to be successful, they would be thankful for these coaches," Downs said. "Because that's what they do is they have such a high standard, and they apply a standard that's almost biblically based. Just like we all try to achieve that standard on a biblical level, and it's like we can never get there, we're never going to be good enough.
"And that's kind of the point, is we're not going to be perfect, but to pursue that is going to bring us together to grow and to define us, mature us and just to excel to another level. These coaches are all about grit, all about heart, all about putting your mind to it. … Silly things (ice cream), we're able to take and just hold on to apply to the field, and it's really reviving and motivating."
.