King, whose family lived on 13th Street, attended All-Black schools (Jefferson and Burley) until the 11th grade, when he enrolled at Lane High. He was one of about 40 African-Americans in the student body at Lane, where he excelled athletically and academically.
Bridgewater offered King a football scholarship, he said, and he could have attended Howard or Tuskegee on an academic scholarship. He decided instead to apply to UVA, which at the time had only a few dozen Black students.
His parents worked at the UVA Medical Center, as had his grandfather, who was the head baker, and King had started working for Dr. Albert Paquin in the Department of Urology as a high school student.
King said he applied to the University in part because "I wanted the status that went along with getting in. UVA was the holy grail of colleges to go to."
After being accepted, he is enrolled in the School of Engineering, with its demanding curriculum. "I bit off a little more than I could chew," King said, laughing.
The University allowed him to live at home, and so his college experience differed from that of the average first-year student. "Ate at home, slip at home," King said. "I went to class, practice, home. Class, practice, home. I wasn't integrated into anything, really, but practice and the classes I was in."
The University's student body and faculty were virtually all-white then, and it "was a real cold environment [for Blacks]," King said. "But that wasn't different from Charlottesville. Charlottesville was cold. This was the environment that was suppressing my uncles and aunts and cousins ​​and friends in town, because they were the ones working as orderlies, janitors, food delivers and housekeepers [at UVA]. That was it. That was all you could aspire to.
"But the thing is, looking at it now, I don't like feeling upset about things, because there's more to my life than racial segregation and racism. There's more to it than that. You had to be determined enough to push through it and smart enough to push through it."
He and his fellow Black students "were bright enough to get in school, but all of us had different kinds of challenges with adjusting," King said. He helped them find social activities in Charlottesville's African-American community.
King began the 1965-66 academic year at UVA and made the varsity wrestling team. He finished the fall semester with a C-minus average, however, and was placed on an academic suspension for the spring semester.
He planned to return to UVA for summer school, but King was drafted in the spring of 1966. He joined the US Air Force that May. For most of the next four years, he was stationed in Charleston, SC, which he found to be "much more Southern than Virginia," said King, who learned a lot about civil rights during that period.
A flight line mechanic in the Air Force, King took extension courses to improve his GPA, but "UVA did not accept those credits," he said. "I wanted to get back into school right away [after leaving the service]and Hampton accepted me."
In 1971, King enrolled at what is now Hampton University, where he majored in math. He graduated in 1973, after which he took a job as a programmer analyst with Xerox in Rochester, NY
"Then I fell in love, quit my job, and drove across the country," said King, who moved to Southern California.
He later relocated to Australia and then to Atlanta before returning to Charlottesville in 1990.
King, who married in 1976, is now divorced, with two children: a daughter in Florida and a son (George King IV) in Florida. He has a niece, Precious King, who graduated from UVA in 1999.
A former president of the Charlottesville branch of the NAACP, King ended up working at the UVA hospital, like so many of his relatives, but in a different role. He began as a contractor doing computer programming for the housekeeping department and helped install an automated system that notified hospital personnel when a room was available.
"I came in at a time when the hospital was upgrading its ability to process information," King said.
He later became the medical center's director of dispatch systems and technology for inpatient transportation. Before he retired in 2010, King was working in IT security at the medical center.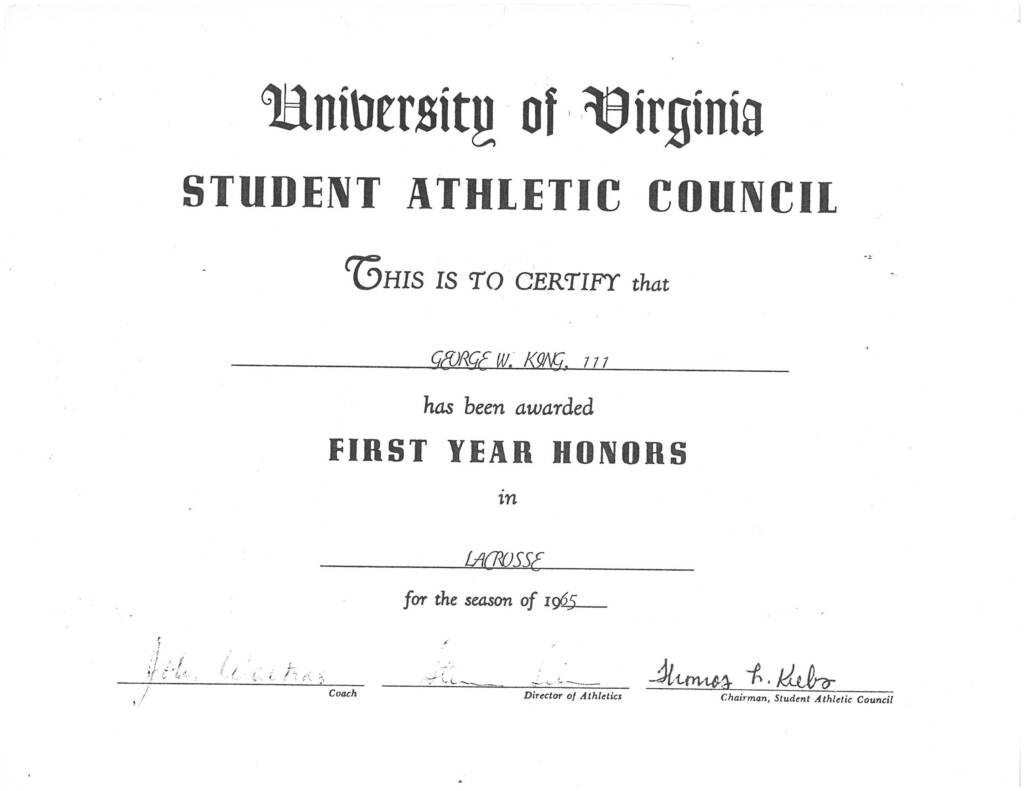 In 1994 and 1996, research papers written by students in then-UVA professor Julian Bond's history classes highlighted King's experience as a student on Grounds. King has copies of those papers, as well as the certificates he received for his participation in wrestling and lacrosse.
Among those who signed the certificates were Steve Sebo, Virginia's athletic director, and Thomas Krebs, chairman of UVA's Student Athletic Council.
"These guys deserve a lot of credit," King said. "They opened up sports at the University in 1964. I was given that opportunity among my peers, and I was motivated to go ahead and try, in spite of what might have appeared to be obstacles in my way."
To receive Jeff White's articles by email, click here and subscribe.
.