VALPARAISO — A private ambulance service is not only trying to address decreasing emergency medical technician numbers, it's using virtual reality to show future EMTs what they could experience in the field.
An accelerated EMT course offered at no charge by inHealth is using virtual reality in the classroom to bring real emergencies to life.
According to inHealth CEO Ron Donahue, "Our goal is to help with the EMS shortage in our Region. [The course] is 12 weeks instead of the typical 24, so they will be able to start making an impact quicker."
The typical EMT course requires a minimum of 159 hours that covers curriculum and field work. This accelerated course has those same hours, but their weekly total has increased from eight to 16 hours.
A typical 24-week program was started at health in August, with the accelerated program beginning in February and is now at its midway point.
From 32 candidates, 20 students were selected for the 12-week course, Donahue said. Those students, whose ages range from 19 to the 40s, are all from Northwest Indiana and are seeking a career in the health field.
Virginia Henderson, 42, a South Haven resident, is interested in moral reconation therapy, a behavioral therapy aimed at decreasing the likelihood of someone returning to substance abuse or alcoholism.
"This class has been great," Henderson said. "With the experience I have, taking care of people, this class goes hand in hand."
Bill Kane, primary instructor for the course, said the program covers different aspects of EMT work, including emergency response and hazardous materials.
"There's a lot of hands-on training," Kane added.
That covers spinal mobilization, CPR and AED training, bleeding control, and full cardiac arrests.
That's where the virtual reality system can provide experiences not found in textbooks. Through this virtual system, students and instructors experience scenes ranging from a hospital setting to an accident with multiple injuries. Those scenes can also be enhanced to add explosions and other catastrophic events.
"Our first priority is scene safety," Kane said. "Then we're constantly reevaluating the scene for continued safety."
The virtual system also takes students into the human body for anatomy and physiology. Pressing a button, students can stand inside a human heart, eye, or other organs. In this age of COVID-19, students can also witness a first-hand virus.
This system, Jeff Zielinski, chief operating officer for inHealth said, is "giving students the power if they were the leading EMT on the scene."
This training will enable potential EMTs to be able to determine if a patient requires minor, immediate, or delayed care.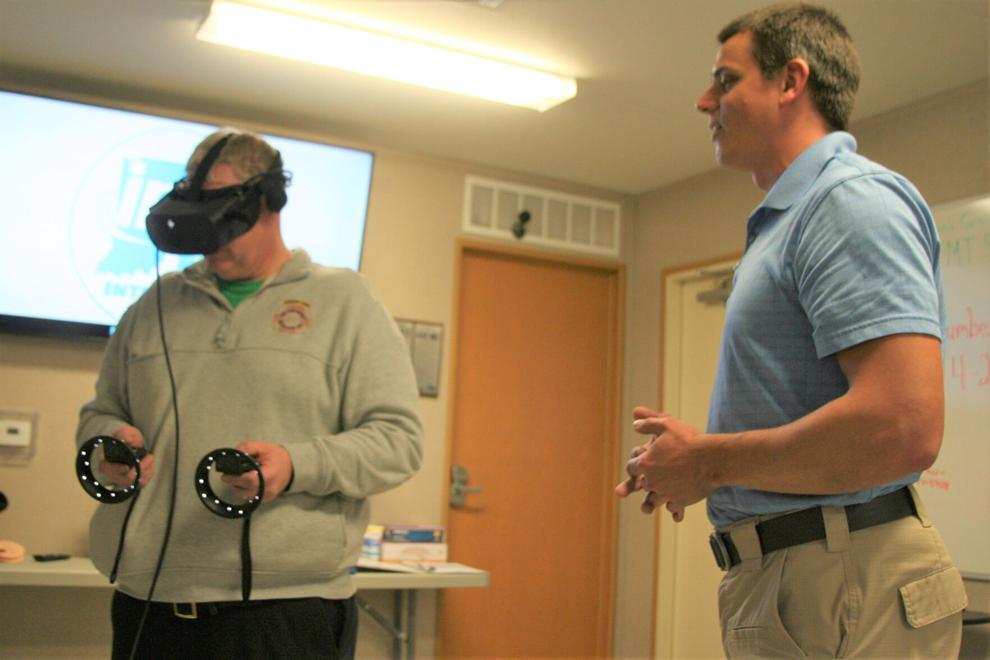 With students virtually stepping into a bodily organ, Zielinski noted, "You just can't simulate this in a drawing. It's something you can't comprehend from a book."
Knowledge of how body parts work, Kane said, can help first responders more accurately diagnose patients at the scene.
Donahue said that with this system "students are getting a better education. They see things in a different way."
Donahue, who started inHealth five years ago, said EMT is a gateway into other medical fields, including nursing and doctors. EMT, he said, offers a "foundation for what it is like to be in medicine."
The course also includes guest speakers on such topics as hospice, disaster management, and special needs patients. Portage Assistant Fire Chief Dan Kodicek recently spoke on opportunities and requirements within that community's fire service.
Once students complete the course, they undergo testing from inHealth, followed by mandated state testing for certification.
Donahue cited several reasons for EMT shortages, including retirement and the pandemic forcing people into other careers.
Matt Anderson, 20, a student from Chesterton, loves the course.
"It's a lot of fun," he said. "For anyone getting into EMTs, I really recommend it."
Planning a career as a firefighter, Anderson said "I'm getting a lot of information."
Breanna Slatton, 25, of North Judson, plans to become a paramedic.
"The class has been good," she said. "The community in here has been like family."
This episode of the "Riding Shotgun with NWI Cops" series takes viewers around Munster in the midst of the holiday season.
This episode of the "Riding Shotgun with NWI Cops" series takes viewers into the midst of flames and smoke with Region firefighters.
This episode of the "Riding Shotgun with NWI Cops" series takes viewers behind the armored vehicles and shields to see what it's like to be a …
Join Cpl. Jerry Patrick, as he patrols the hallways of Lake Central and Kahler Middle School.
Ride along with Officer Jimmy Weller as he patrols the region's border of Lake Michigan as part of the Lake County Sheriff's Marine Unit. Video…
Join Sandy Curry, Willie Hall, and Michael Quiroz as they ride for Superior Ambulance in East Chicago
Join Tristan DeFord, Jami Rieck, and Nancy Zakutanksky on a shift working for Superior Ambulance in Merrillville.
Go on patrol with Aaron Crawford, a Cpl. with the Lowell Police Department, as he speaks about joining the force, DUI enforcement grants, and…
Ride along with LaPorte Police Specialist Justin Dyer as he patrols the streets of LaPorte.
See a day in the life of Michigan City Police Officer Brian Wright in the latest Riding Shotgun with NWI Cops installment.
See a day in the life of Valparaiso Police Lt. John Patston in the 14th installment of Riding Shotgun with NWI Cops.
See a day in the life of Portage Patrolman Brian Graves in the latest installment of Riding Shotgun with NWI Cops.
The twelfth installment of Riding Shotgun with NWI Cops features the Lake County Sheriff's Department's Aviation Unit, led by Lt. Randy Philli…
Ride Shotgun with Lake County sheriff's Sgt. Bryan Kersey as he checks to ensure convicted Northwest Indiana sex offenders are complying with …
See an evening through the eyes of Schererville Police Patrolman Adam Biella. Video shot by Kale Wilk and produced by Nat Cardona. Interview b…
See a day in the life of Schererville Police Cpl. Michael Bork. Video filmed by Kale Wilk and produced by Nat Cardona. Interview by Mary Freda.
See an afternoon and evening through the eyes of Crown Point Police Patrolman Daniel Lee. Interview by Mary Freda. Video by Kale Wilk. Produce…
Riding Shotgun with NWI Cops' seventh installment features Jason Corle, of Griffith Police. Video shot by Kale Wilk and produced by Nat Cardona.
See an evening on patrol with Lake County Sheriff's Officer Stevie Gill in the sixth installment for the Riding Shotgun with NWI Cops series. …
See a day in the life of Dyer Police Officer Matthew Voss as he patrols on a snowy February day. Video shot by Kale Wilk and produced by Nat C…
The fourth installment in the "Riding Shotgun with NWI Cops" series features Lake County Sheriff Oscar Martinez. See as Martinez performs high…
The third installment of Riding Shotgun with NWI Cops features a day spent on patrol with Valparaiso Police Department's Keith Perez.
The Times of Northwest Indiana rides along with Lake County Sheriff Officer Trevor McKinney as he completes patrol work in Calumet Township an…
The introductory installment of 'Riding Shotgun with Region Cops' takes a look at a day in the life of Griffith Police Officer Robert Carney. …
.