PEOPLE West Limerick are being encouraged to sign up for a free 12-week biodiversity Wild Work training program that will combine traditional learning with virtual technology.
Training will be delivered in Abbeyfeale, Newcastle West, Broadford, Kilcornan and Glin and will comprise six core biodiversity training modules that will explore the Irish landscape and its natural networks.
Designed by expert ecologists, the program integrates the use of virtual and augmented technologies with practical outdoor classroom and on-line learning modules. This innovative approach will help trainees focus on how best to support local biodiversity and experience mental and physical health benefits as a result of taking part in positive environmental actions.
Starting next month, the Wild Work training program is open to individuals, community and voluntary groups, farmers, teachers, pupils and parents, the business community and managers of public amenities as well as the owners of public land.
The Wild Work in Action module will provide training in creating ecological/pollinator corridors and biodiversity management of public lands, all of which will be delivered by biodiversity experts. The training will be enhanced by the development of an online Wild Work Toolkit with a range of e-learning activities.
Sign up for the weekly Limerick Post newsletter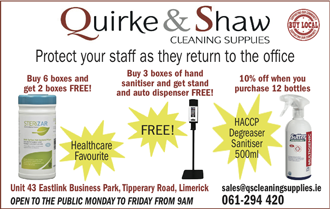 The program is being coordinated by West Limerick Resources, Cavan County Local Development and SECAD Partnership in Cork who first developed Wild Work in 2017.
It is hoped that, over time, the training program will be rolled out nationwide and will inspire other countries to create similar programs for the benefit of both people and place.
West Limerick Resources chief executive Shay Riordan said that there has never been a better time for all members of the community to get involved in the Wild Work initiative.
"Our collective experience of the Covid pandemic combined with an ever-increasing awareness of climate change and its impact locally, nationally and internationally has brought the wellbeing of both people and planet into sharp focus.
"We are delighted to be able to make the Wild Work program available to people here in West Limerick. In helping nature, we will help ourselves by cultivating a new love for learning about nature.
"All of us has a role to play in protecting nature, a role that will pay an environmental, economic and wellbeing dividend for both individuals and communities. I urge people, community groups, businesses, farmers and managers of public lands to take part in what is an exceptional opportunity to help nature, help people, help nature."
Registration for the free Wild Work Training Program is open online at www.wildwork.ie